Welcome to our Theatre Plays

MOOSE HIDE BOOKS is pleased and proud to present to you plays that we are sure you will enjoy presenting and performing.
NO VENTURE IS UNATTAINABLE. Amateur and professional playwrights and plays deserve the opportunity to be presented at all levels of theatre, for we are striving to entertain the theatre patrons.
All great writers, actors, producers, stage hands, costumers, make up artists, lighting technicians, directors, choreographers, and all theatre assistants started at the beginning, hoping, dreaming, striving to reach for the spotlight.
Those that give of them selves, in an amateur theatre, are the foundation of this art form.
To them our applause and our willingness to give them all a chance to succeed.
PERFORMANCE ROYALTIES:
All royalties listed are for live stage productions by amateur groups with a maximum seating of three hundred people. Professional groups require special arrangements based on a percentage of gate admissions. Television or radio presentation arrangement through agreement. Royalties are applicable for all performances before an audience whether admission is charged, or not. Presentation rates are listed within the title's descriptions. All royalties are due upon agreement with MOOSE HIDE BOOKS as to when production is planned to be presented. Royalties for music and sheet music due when ordered.
RIGHTS AND RESTRICTIONS:
ALL MOOSE HIDE BOOK-plays are protected by copyright laws and convention. It is an infringement of copyright law to give a performance or reading of any such play or excerpt without prior consent from MOOSE HIDE BOOKS. It is also a violation of copyright law to copy part, or all of a play's content by any means, including typing, photocopy or videotape.
PRODUCTION REQUIREMENTS:
Whenever and wherever a play is produced, Due authorship credit must be given on all programs, printings and advertising for the play. No changes may be made to the written play, for personal preferences of your production, unless this publisher and the author of the selected play consents to changes. No television, film, video or audio recording may be made of your production. If so, applicable fees must be paid. For private recordings for archives, please inquire for permission. An archive recording in current format must be supplied to this Publishing House if the presenter has the means.
Thank You for Your Interest in Our Plays
Publisher;
Theatre Plays
Please note; all theatre play-books must be ordered directly from this web-site

Please telephone, or e-mail your inquiry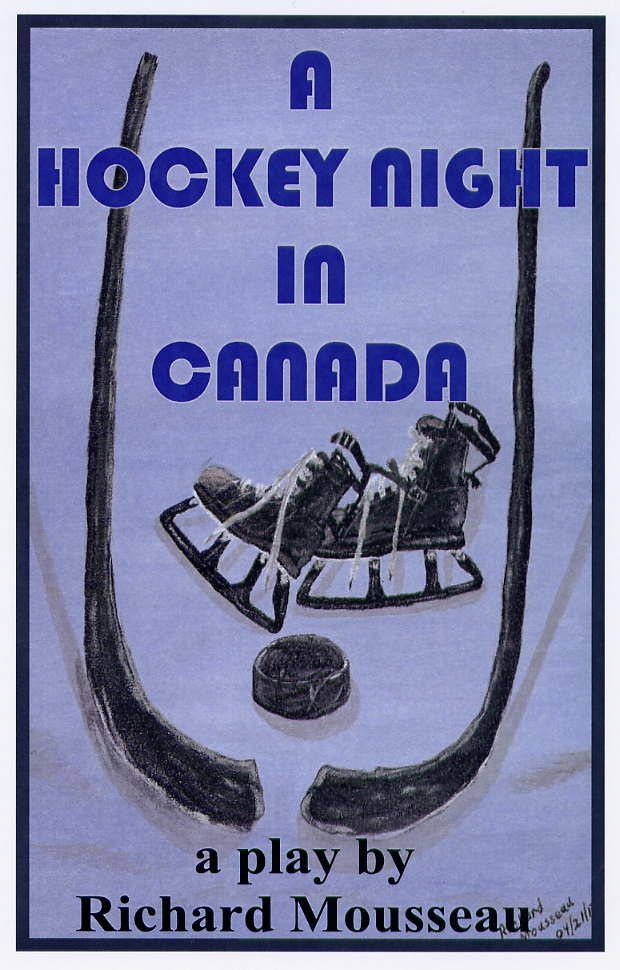 A HOCKEY NIGHT IN CANADA
Richard Mousseau
ISBN 978-1-927393-21-5
Theatre Play, (130 min) 68 pg. (All ages) $10.75
Drama, comedy, 7 male leads, 2 female leads, 2 child seconds, 2 female seconds.
One blustery winter of eighteen-eighty-six in the home of John Louie, and Isobel Stanley Creightion, a gathering of mostly men discuss the various games played on ice with sticks and a disc. Their concern is the various rules followed by different teams in different areas of the country and in that of the world. The men decide that a set of rules should be drawn up for everyone to follow. They also decide to define the way the game should be played. Of most importance is the name to be associated with the game. Beware of the influence and suffrage of women making a stand in society and evolution in history. Many a man, woman and child of Canada's landscape of snow and frozen ponds has contributed to the history in the making of a Hockey Night in Canada.
Simple set; play book $10.75; Royalties; first performance $35.00; each additional performance $25.00.
BATS:
Robert Dunbar - Karen Scioli
ISBN 1-894650-33-6
Drama, comedy , 1 female lead; 1 male lead.
56 pg, (adult) $12.55
Prologue; Scream Queens 101: An introduction by a somber man educating the audience before the main play. He gives an academic appreciation of Horrifying women.
On a dark lonely night when only the flutter of bats wings is heard, a B-Movie Queen chronicles her life. From her earliest days on the set of her first horror film, to her rule as a reigning Diva of dread, she relates her life to us. In the mist of her lonely cavern, she tells of her dark nights as a nearly forgotten icon. Her career long over, her glamour fading, alone, forsaken, swimming in the depths of red wine, the Queen of horror dictates her memories into a tape recorder and becomes lost in her memories. The Queen of B-Movies languishes over her dead career hoping for an elusive come back, to rise again from the depths of the departed.
Simple set; play book $12.55; Royalties; first performance $35.00; each additional performance $25.00.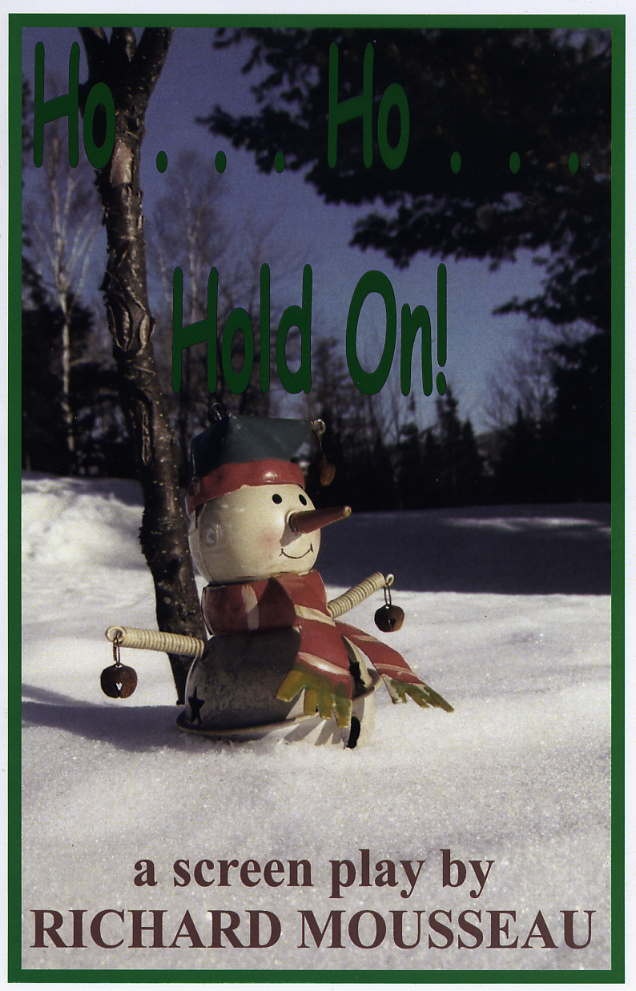 HO . . . HO . . . HOLD ON!
Richard Mousseau
ISBN 978-1-927393-37-6
Drama/Comedy Screen Play
Adaptable for Television or Stage Play.
(all ages) 148 pg. $14.25 Can.
11 main characters.
Basic Story
A Hobo is mistaken for Santa Claus. Santa brings various people together after combinations of different situations. Life's downturns begin to show a positive up side when everyone leans on each other and prosperity and love develops.
FRED
Your mother really hates me. Never liked me stealing you and Molly and moving across the country.
BETH
We will be there shortly and she will have Molly to hug and spoil. She will thank you for bringing us safely to their home.
FRED
And resent me for free-loading on them. Despise me for not being able to provide a home for a wife and child. Tolerate me by providing an army cot in the cold dark dungeon of the cellar with the ghost of . . .
MOLLY
Santa Claus.
DIRECTIONS
Fred looks at Beth with a bewildered questioning glare. Beth squints and shakes an accusing finger at Fred then both turn to look at Molly smiling and pointing forward through the windshield.
BETH
No . . . no . . . Molly, Grandma does not have ghosts in the cellar. Daddy is just making up a story, that is what Daddy does . . . writes stories.
FRED
An unemployed writer going to live in your parent's cellar with the ghosts that haunted Ebenezer Scrooge not . . .
MOLLY
No . . . out there . . ., we are going to hit Santa!!
(blink eyes, hold closed then open to confirm what is seen)
Santa . . ., Daddy, . . . you killed Santa.