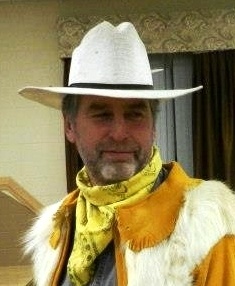 Cowboy poet, Mr. Cheeks-Too-Soft, is available for poetry recitations and readings, be the venue small and intimate, or a theatre setting. Cheeks-Too-Soft will delightfully recite cowboy poetry that will tantalize the audience with humour or bring a tear to the eye.
Tales of adventure will carry listeners through the dusty trails of cattle drives to the loneliness of cabin life in the frozen north.
Delight in the drama, comedy talent of Mr. Cheeks-Too-Soft.
For further information, please contact Richard Mousseau.
A poem sample from Mr. Cheeks-Too-Soft.
HORSE TRADER
Five bucks read the for-sale tag.
I am not one to continuously nag.
It is a bit much for an old hag.
For profusely its belly does sag.
I will offer you one dollar for this old roan.
At this point in time it is just skin and bone.
I am able to give it a barn made of stone.
He is lonely, do you not hear him moan?
Everyday I will take him for a ride.
Over logs and hedges we will glide.
I will teach him to trot a gallant stride.
With heads high, we will ride with pride.
Will you look at those big sad eyes liquefy.
Any moment now he just may start to cry.
For days no one was willing to buy.
I have one dollar and I am your guy.
This honest to goodness horse trader I do endorse.
Accepting a five-year-old kid's bid, I have no remorse.
You win young cowboy, a done deal of course.
Partner, saddle up your antique hobby horse.
THE END
Cowboy Poetry Video Links;
Farm Sale.
https://www.youtube.com/watch?v=89VIfo2eCFI
Weathered Boards.
https://www.youtube.com/watch?v=tsdvtCuBT7c
Miss. Anita
https://youtu.be/yHfXgM82PSA
Just Biding My Time
https://youtu.be/v3iBiDBZv_s
Horse Trader


Richard Mousseau

Our in-house story-editor, and creative writing mentor.
Publisher, editor and author, Richard Mousseau is available for topic discussions, or lectures on the industry of book publishing, creative writing, self editing and the status of the general turmoil of writer and publisher associations.
Invite Mr. Mousseau to guest speak at your book reading club, your writer's group. You may request a topic to be presented with open discussion.
Fees suited to the venue of your needs, from no payment, to an hourly rate, to a percentage of gate.
For further inquires, please contact Richard Mousseau.


Song Writer
Richard Mousseau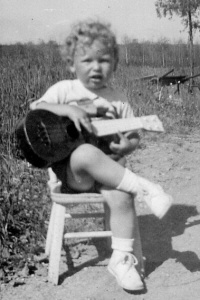 Song writer adept in a variety of musical styles of classic rock, rock and roll, easy listening, blues, country, and able to adapt music to modern styles is looking for performers interested in adding original songs to their performing repertoire.
If you are interested in building your catalogue and being the first to perform and possibly having these original songs on your recordings, then contact Rick Mousseau.
Amateur and professional performers welcome.
These original songs may be the next top ten when performed by interested parties' unique talent.
Rick will work with artists to adapt songs to performer's style.
A performance agreement between performer and song writer is all that is required.
No cost is applied to performer.
Performance diary is required to be filled out, and accreditation is to be announced.
Recording royalties to be administered by music publisher.
If you feel that an original song may be in your best interest, please feel free to contact Rick Mousseau.
Thank you for Your interest.
Rick Mousseau
Check out sheet music books featured on the Novel tab, books are filled with my original songs, all of which are also downloadable from the Audio Song Collections in the below section.
View demo songs and videos by clicking onto following links.
Music Video links;
A Cowboy's Lullaby.;
https://youtu.be/ZJd84keVuuA

I've Been Searching;
https://youtu.be/UleSfxRpA98
Rotten Little Kid
Rustic Church
https://youtu.be/fmm87kozzps
I Made Up My Mind
https://youtu.be/hSM8uEw02KY
Where Do I Go To Pray
https://youtu.be/3RjaKVkwu1g
My Home Belle-isle

https://youtu.be/9CfzKviqW-E
I Pretend
https://youtu.be/Unx5fm-OUDg
What If, Do You Know
https://youtu.be/U7NxL0GLQto
Sailing Home
https://youtu.be/Tl8m5Nb8hQA
A Seafaring Son
https://youtu.be/6KnIXXA8pi0
Home-Land Train Ride
https://youtu.be/B9xEYgR6mT4
AUDIO SONG COLLECTIONS
I am pleased to present audio selections of my Original Music. Just click on the link to listen to my music, and if interested, songs can be downloaded for future listening. All lyrics and scores composed by Richard Mousseau and subject to all copyright laws. Audio music and sheet music published by Moose Hide Music Publishing, an imprint of Moose Enterprises. For musicians, singers and producers looking for original material in a variety of genre, this is the site of my best selections. Feel free to contact me if interested in a selection, I will gladly supply sheet music copy of selections, and publishing legalities. Further information listed in above section.

Blues Song Collection -
https://drive.google.com/drive/folders/1xPRcCz8_s9I5R9WqOZoqZjxcytUvTncv?usp=sharing
Comedy Song Collection -
https://drive.google.com/drive/folders/1OK2WkuzYmkU_XD6Ag8lsTACfIsPwgLEU?usp=sharing
Country Blues Song Collection -
https://drive.google.com/drive/folders/1DpabgIYf5UADN-megSPW46BsfI-bAWSX?usp=sharing
Country Song Collection -
https://drive.google.com/drive/folders/1gCrm3PNrqAb_AlHLxlZv7ZUaVqoC4uoi?usp=sharing
Gospel Song Collection -
https://drive.google.com/drive/folders/1zn2k5ODbVIzEBeQMRWVkXHU-tuShrlf2?usp=sharing
Holiday Song Collection -
https://drive.google.com/drive/folders/1lx6cTJ8YR4AxFSMe5ajnFikQyHzxEYU6?usp=sharing
Lullaby Song Collection -
https://drive.google.com/drive/folders/1APKHvjTV_mda21-1KbFyoMHIGUe7cKL3?usp=sharing
Pop Song Collection -
https://drive.google.com/drive/folders/15Nxx1qdqMePDw78oK6DuaTIFTxUMQ0Zj?usp=sharing
Rock Song Collection -
https://drive.google.com/drive/folders/126Q23w03DGaaEdLn0MonMw36wlH0nE90?usp=sharing